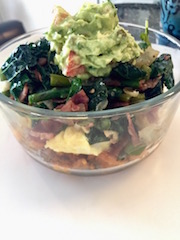 Ingredients
1 small sweet potato (chopped into cubes)

2 C Kale, chopped

1 C Swiss Chard, chopped

4 Asparagus Spears cut into 1 inch pieces

1/4 yellow or red Onion- finely chopped

1 clove Garlic, finely chopped

2- 3 slices Turkey Bacon, chopped

1/2 Jalapeno, seeded and chopped

2 Eggs

1/2 tsp Smoked paprika

Salt and pepper- to taste

2 T coconut oil

Guacamole 
1 avocado

1/2 tomato, seeded and chopped

1/2 jalapeno, finely chopped

1 T fresh cilantro, chopped

1/8 th tsp garlic salt

1/2 lime, juiced

pepper, taste

Directions
In large pan, place sweet potatoes in 1 C water and cover with lid until soft but not fully cooked. Take off heat, drain excess water and set to the side.

Add 1 T of coconut oil to your pan with bacon, onion and garlic. Cook until onions are translucent and bacon is almost cooked through. Add kale, asparagus and jalapeno and saute until veggies are cooked to your desired firmness (about 4-7 minutes). Season with smoked paprika, salt and pepper to taste.

While veggies are cooking, crack eggs into a bowl and scramble using a fork. Add 1/2 T to a small pan and cook eggs until they are firm.

Assemble ingredients for guacamole (if not already completed)

Before you assemble all ingredients, place 1/2 T coconut oil into pan with sweet potatoes to reheat and brown them slightly. Season with salt and pepper to taste.

To assemble: Put sweet potatoes in bottom of bowl and then layer egg and greens and bacon mixture on top. Put your desired amount of guacamole on top prior to serving. Enjoy!

Guacamole

Place all ingredients into mixing bowl, and use fork or masher until all ingredients are blended to the consistency of your liking.