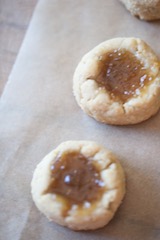 Ingredients
1 C rolled oats
1 C almonds
1 C brown rice flour
1/3 C melted coconut oil
1/4 C maple syrup
1/4 C brown rice syrup
Fruit-sweetened jam of your choice - I made these this fall with figs!

Directions
Preheat oven to 350 degrees.
Combine oats and almonds in a blender or food processor and blend until they have the consistency of flour.
Add to a large bowl with brown rice flour. In a small bowl mix together the oil, maple and brown rice syrup.
Combine wet and dry ingredients and mix well.
Make 1-inch balls with your hands and press flat onto a cookie sheet.
Make an indentation with your thumb into the center of each cookie.
Fill each cookie with a teaspoon of jam. Bake at 350 for 15 minutes.
Cool and enjoy!