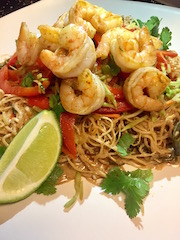 Ingredients
Salad
1 packet Sea Tangle Kelp Noodles (12 ounce packet)

1 organic red bell peppers (cut into small strips, or diced)

1/4 C yellow onion, diced

1/2 jalapeño, deseeded and diced

1 C broccoli slaw

*optional for 15-20 wild caught shrimp

2 T coconut oil

1/8 tsp smoked paprika

1/2 tsp Himalayan salt

1/2 lime

Sauce
1/4 C canned organic full-fat coconut milk

1/2 C raw almond butter

2 T red curry paste

1/4 C organic cilantro

1 clove organic garlic (freshly crushed)

1 tsp organic red pepper flakes

1 tsp Himalayan pink salt

1 T Coconut Aminos

1 T Sesame oil

1 T filtered water

juice of one lime

Directions
Prepare the Kelp Noodles
remove the from the package and rinse them with purified/filtered water. Set aside.

Prepare the Veggies
chop the red peppers and onions into thin strips. Set aside.

Heat 1 T of coconut oil over medium heat, in amedium sauce pan. Sautee the onions, red peppers and jalapeño until slightly translucent (about 5-7 minutes). Remove and set aside in a medium sized bowl.

Prepare the Sauce
Add all ingredients for the sauce to a medium sized bowl and mix until creamy and smooth.

Adjust seasonings to your preference, especially the jalapeno and/or redpepper flakes.

* Add 1/8 - 1/4 C of purified/filtered water if you want a thinner sauce.

Using the same pan, over medium heat, heat the remaining coconut oil and add the shrimp.
Sprinkle with paprika, salt and lime juice. Cook until shrimp is cooked all the way through, about 5-7 minutes.

Add the kelp noodles to the medium sized bowl, then pour the sauce over the top and gently stir until it is evenly distributed. Top with the grilled shrimp and sprinkle with lime juice and cilantro.