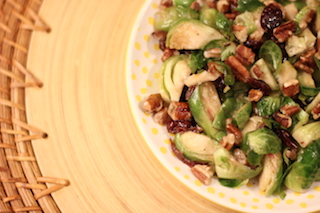 Ingredients
12oz brussels sprouts, tough outer leaves trimmed
1/4 C raisins
1/4 C chopped pecans
1/4 C crumbled goat cheese
1 pear, chopped
2 large shallots, thinly sliced
3 T  avocado oil
For the Maple-Balsamic Vinaigrette
:
2 T avocado oil
2 T balsamic vinegar
1 T maple syrup
1 tsp Dijon mustard
salt and pepper

Directions
Using a very sharp knife, thinly shred brussels sprouts and add shredded sprouts to a large bowl with raisins, pecans, goat cheese, and chopped pears. Set aside.
Heat oil in a skillet over medium-high heat. Add half the shallots then fry until light golden brown, 1-2 minutes. Scoop onto a paper towel-lined plate to drain then repeat with remaining shallots. Sprinkle with salt then let cool slightly.
Add ingredients for Maple Balsamic Vinaigrette together in a jar then shake to combine. 
Pour over salad then toss to coat. Add fried shallots then toss to combine, and then serve.