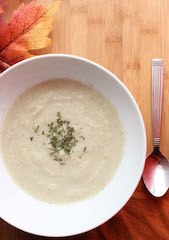 Ingredients
1/2 T coconut or avocado oil
2 garlic cloves, minced
1 onion, diced
1 head cauliflower, diced
32 ounces vegetable broth
1 tsp. salt
grated parmesan for serving, if desired (do not add if making paleo)
sliced green onions for serving, if desired

Directions
 In a dutch oven pot (or heavy pot), heat olive oil over medium heat. Add onion and garlic. cook until softened, about 5 minutes.
 Add cut up cauliflower and vegetable broth. Bring to a boil then cover and simmer for 15-20 minutes until cauliflower is softened.
 Carefully pour entire contents of pot into blender (I use my Vitamix). Add salt.
 Carefully blend until smooth. Serve in bowls with grated parmesan cheese on top (if desired) and sliced green onions. Enjoy!