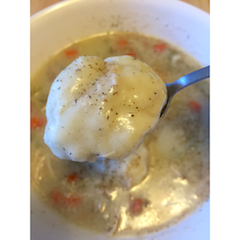 Ingredients
Chicken
3 C chicken broth
1 1/2 C cut-up cooked chicken
2 carrots finely diced
2 celery stalks finely diced
1 tsp. seasoned salt
1/4 tsp. pepper
1 1/2 C rice milk
3 T arrowroot powder
Dumplings
1 C brown rice flour
1/4 C coconut flour
1/4 C tapioca flour
2 tsp baking powder
1 1/2 tsp guar gum
2 eggs
3/4 C rice milk
1 T coconut oil, melted

Directions
In 3-quart saucepan, heat chicken broth, chicken, vegetables, salt, and pepper to boiling. 
In small bowl, mix 1 Cup milk and the arrowroot with wire whisk until smooth; stir into chicken mixture. Heat just to boiling.
In small bowl, stir dumpling ingredients with fork until blended. Gently drop dough by 8 rounded spoonfuls onto boiling chicken mixture.
Cook uncovered over low heat 10 minutes. Cover and cook 15 minutes longer.
*BONUS - cook a whole chicken, first to use the broth and the chicken meat.